Madison HVAC Reviews and Why Our Clients Prefer Working with Dales Heating
And don't miss our maintenance tips and videos!
At our company, your complete customer satisfaction is the highest priority. If you take a moment to read what some of our customers have said, you will get an idea of why we are one of the most preferred air conditioning providers in Verona, WI!
"We used his dad in the past, and Brian is wonderful. He's very honest, personable and a reputable person! I really trust him and the work he does."
Margo, Middleton
"The experience has been great. The technicians were on time and did a very professional job with everything! Their price was very reasonable."
Marsha, De Forest
"The job was done quick and painless."
Gordon, Madison
"The job he did was perfect- ahead of time for service call, great value. BEST of ALL- the best customer service I've experienced in many a moon. You will be thoroughly pleased!"
Miguel, Verona
"The guy who came out was incredibly honest- while he was doing an estimate to install a vent, he realized the vent was already there, just covered by carpet. He told me where/how to cut the carpet and left- no charge. I've already recommended these guys to a bunch of people."
Emma, Madison
"From start to finish they were wonderful to deal with, I would highly recommend Dale's Heating."
Jim, Madison
"Excellent work. Honest about the fee."
Duy, Madison
"Very professional!"
Dan, Madison
"Great experience and very professional service."
Heather, De Forest
"I would highly recommend this company to anyone. I solicited five different estimates for my new furnace and air conditioning installment. I chose this company because I felt the cost was reasonable and fair and the service man was knowledgeable, honest and forthright. I was not disappointed! Not only was he efficient, professional and courteous, he left my house in impeccable order."
Tammie, Madison
"Dale's technician was very professional and fixed the A/C problem at our home. My wife and I are very thankful for the service."
Pedro, Madison
"I called to schedule a visit for Brian to look at the downstairs HVAC thermostat on my Bryant unit. Left a message and Brian got back to me within 30 minutes. After describing the problem to Brian he provided a quick fix over the phone at no charge. I appreciated the honest and helpful service. He could have easily come and charged me for a service call to do the same thing. Brian was recommended by a friend and I'm glad I took the recommendation."
Loudon, Verona
"The experience was outstanding overall. They did a great job."
Mike, Verona
"Everything went well overall. It was easy to get ahold of them, and the technician was prompt. Most of the work was done under my home warranty. He was very helpful! I haven't had any problems since."
Jennie, Madison
"I have asthma and leave the a/c fan running 24/7. The motor burned out! I called Dale's Heating & air cond. Brian Olson came out, replaced the motor for a VERY reasonable cost. He was SUPER professional. Told all occupants of our townhouse complex to use Dales. About a month later, I ran into a separate problem over the weekend. Called Brian to get him sched'd to come out early the next week. He knows I'm handy & gave me the fix over the phone & didn't charge me a cent. Brian, his company, his service are truly worth a call if your heating & AC unit runs into trouble."
Mike, Verona
"The experience was good overall. The work was covered under warranty."
Katharine, Madison
"My furnace decided to quit on the coldest day of winter. I called Brian at Dale's and he was at my house within two hours of my call. He was very professional. He didn't have the part on hand for my 30 year old furnace, but was back first thing in the morning and got the old beast running for a very reasonable price. Thanks Brian."
James, Madison
"I highly recommend Dale's heating and A/C. My A/C died on a Tuesday and Brian came out the same day I called, diagnosed the problem and presented me with my options. I needed a new a/c compressor, but Brian very patiently explained to me that I also had the option to upgrade to a stronger compressor and cooling coil. Not only did Brian fix my A/C but in the end I have a unit that performs much better for the size of my home. Brian at Dale's is a very knowledgeable, fair, honest, kind serviceman."
Matt, Fitchburg
"Dear Brian thanks for coming over so quickly and restoring our furnace to working order."
Jerry, Madison
"Thank you for the wonderful response to run the gas line to my kitchen. Your customer service was very much appreciated."
Caryl, Madison
---
"Excellent service, fast, experienced, and at a good price."
Thank you for giving us the opportunity to serve you. We greatly value your business and look forward to serving you in the future.
---
VIDEOS: HVAC Maintenance Tips from Dales Heating & Cooling
Why You Shouldn't Put Off Furnace & AC Replacement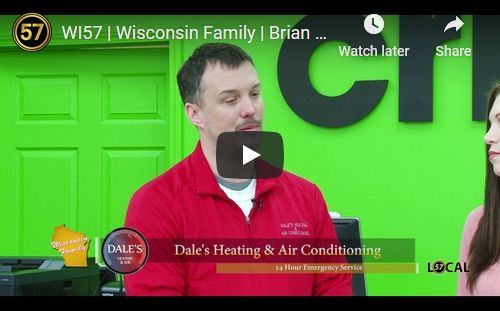 ---
What To Do if Your Furnace Isn't heating + Fall Check Ups!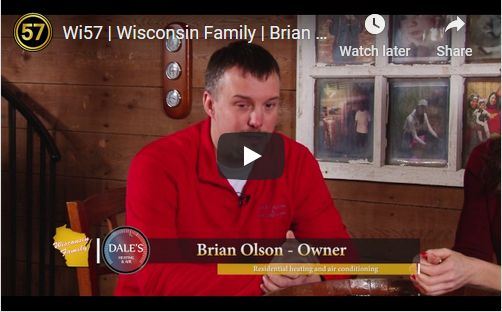 ---
Maintenance Steps To Keep Your Furnace Running Efficiently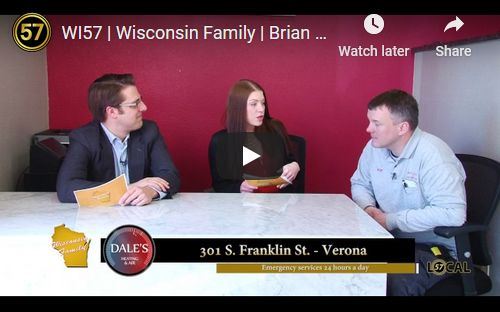 ---
Why Air Duct Cleaning Improves Air Quality & the Efficiency of Your HVAC System